Hey peeps! How are you?
I know I know.. I've been lost for quite some time >.<
Yes, I am really lazy to blog after I get a job. *Yeah!

Ahh.. Come back to the main topic!
Ahem.. Today, I am very happy to blog about this blogshop!
Yes, you seen it right! GlamTags! *theyaresuperfamous
Before I move on, I just want to say 'THANK YOU!' for partially sponsoring me this beautiful necklace!
*Not to forget, thanks to my baby boy for sponsoring me the remaining cost!
TADA! Beautiful right~ *spot the love shape? =P
My necklace falls at the premium range! *they have lots of range
18K Yellow Gold,
Standard-sized, 40cm chain
GlamTags is a personalized name accessories blogshop which started their business since 2011.
*only 3 years, they so successful already. (clap)
Don't worry, I wont be telling you about their history (*i dont know either), but I'm going to tell you, based on my experience with GlamTags, the reasons why you should consider buying one for yourself or your love ones.
WHY GlamTags?
1. Unique
Alright, you might be thinking "Nah.. I can find it anywhere. Many people are selling it."
BUT! Continue reading, and you will know why they are unique =P
2. Great Quality
I've been wearing it for a month, nothing happen yet. Normally, my necklace wont survive that long. Because I am not 斯文 at all. LOL! Besides, by only looking at the necklace itself, it looks very... high class? =D
3. Variety Choices
Yes, they have lots of designs that you can choose. All beautiful designs. =D
4. Preview
One of the reasons I love about GlamTags, despite the above reasons, is that they show you the preview of your customize accessories!

I'm not sure about you, but for me, it is really important to have a preview so that you know what you are buying. I mean, how it looks like. Most girls No.1 concern is the outlook right~
5. Service
Ahha! This is one of my most concern actually. I can tell you, they are really patient. Haha. I asked soooo many questions, trust me, I am really fussy in this kind of online shopping thingy. But but but, they surprised me with their humble services. 100/100 =D
6. Long Lasting Look (Fashion)
You heard me. I mean.. you seen it! This kind of necklace wont be out dated, at least not for the coming 10 years I dare to say. *It gels well with any outfit!
7. Promotions
YES!!! Promotions! Discounts! They frequently offer great deals to their potential customers! Very generous~ If you follow their Facebook page, you will see it. *Check out their FB link at the end of this post!
8. Great gift
I can tell you, this can be a really great gift for someone you love. Even for yourself!
To the guys:

You seriously need to consider my words. Girls LOVE this kind of present. But make sure the design is nice la har.
To the ladies:

You need this. At least one in your life. Yes. You will look ugly if you dont. NAH.. I'm just kidding. But seriously, you need one. When any guy approach you and ask for your name, just point to your necklace. HAHAHAHA. *ok. I know I am lame =(
9. Trustable
They are very honest people. At least I still get my necklace right? =P
10. Almost everyone is having atleast one GlamTags
Aiya.. Biasalah.. Like smartphone like that.. Everyone is having one ma.

That's it! Don't believe that they are that awesome? Go buy one and see it for yourself! =D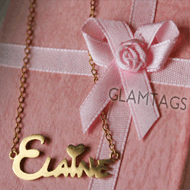 Click the picture and it will link you to their Facebook page =)